Caring for Caregivers: A Gallery of Infographics on
Reducing Dysphagia-Related Caregiver Burden
Karen Sheffler, MS, CCC-SLP, BCS-S of SwallowStudy.com
During the month of June 2020, have you been following #DysphagiaAwareness hashtags?
SwallowStudy and the American Board of Swallowing and Swallowing Disorders (ABSSD) focused awareness on caregivers across the lifespan. We specifically highlighted how to support people who are caring for care recipients/care partners who have conditions that cause dysphagia (#DysphagiaAwareness). As we learned on our last blog (Caring for Caregivers During COVID-19 & Beyond), when a care partner has difficulty swallowing (dysphagia), the impact on the caregiver is greater. In case you did not see all the infographics created by the public relations committee of the ABSSD, here is the full gallery.
You can also go to the ABSSD pages on Facebook (@BCSSwallowing), Twitter (@BoardSwallowing) and LinkedIn to share the infographics directly and continue to raise #dysphagiaawareness beyond June.
Make sure to see the Caring For Caregivers Webinar with researchers, a mom who is also an SLP (Theresa Richard, MA, CCC-SLP, BCS-S), and clinicians. See picture below for what we covered and who were our speakers. This was a Zoom meeting that was posted LIVE on ABSSD's Facebook page on June 18. You can still see the recording on the facebook page, and see below for the embedded video. This ABSSD event was hosted by myself and Yvette McCoy, MS, CCC-SLP, BCS-S.
*****************
Now for the #DysphagiaAwareness &
#Caregivers Infographics Gallery: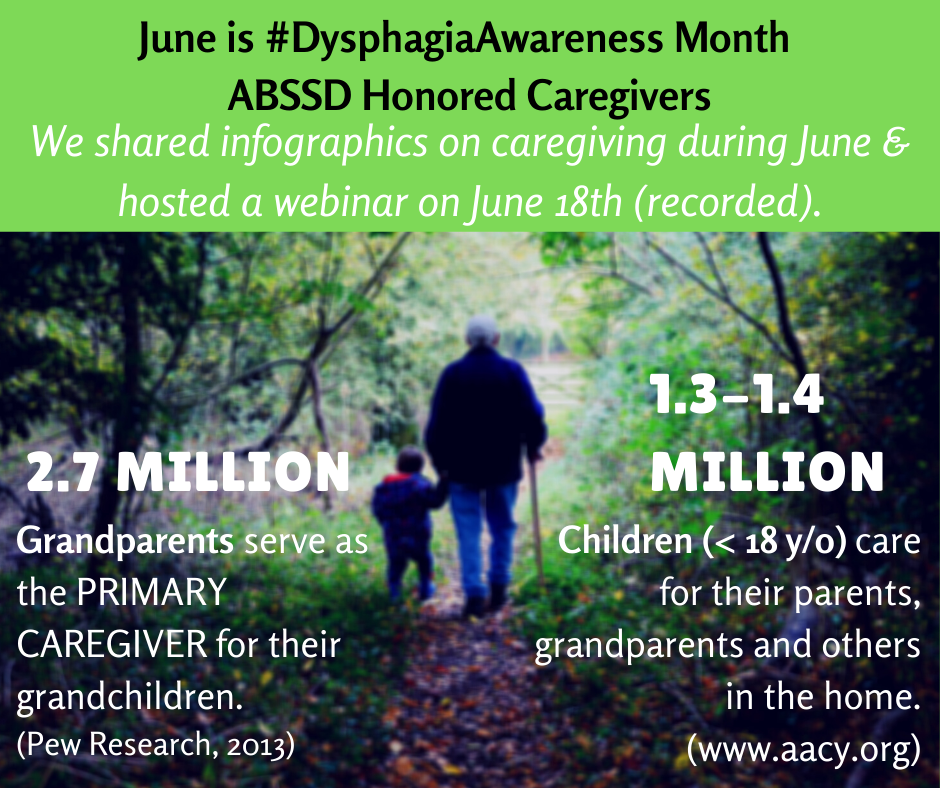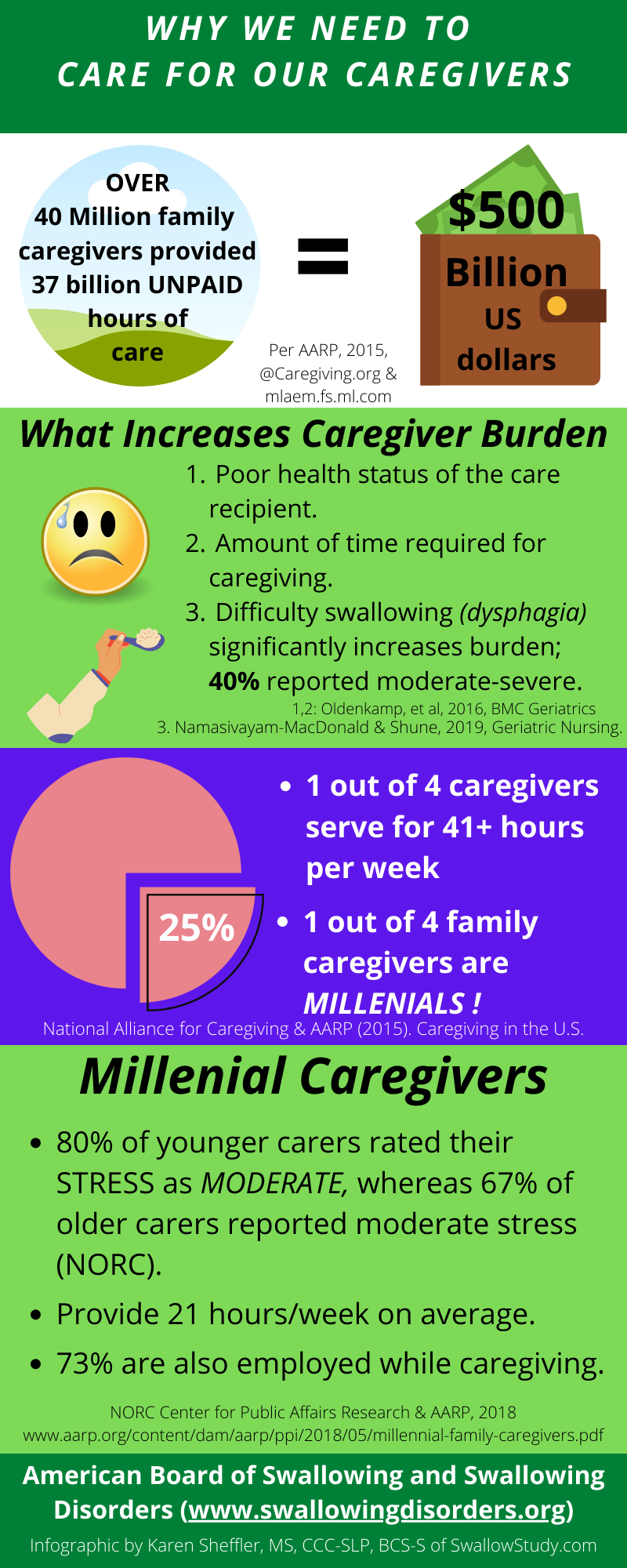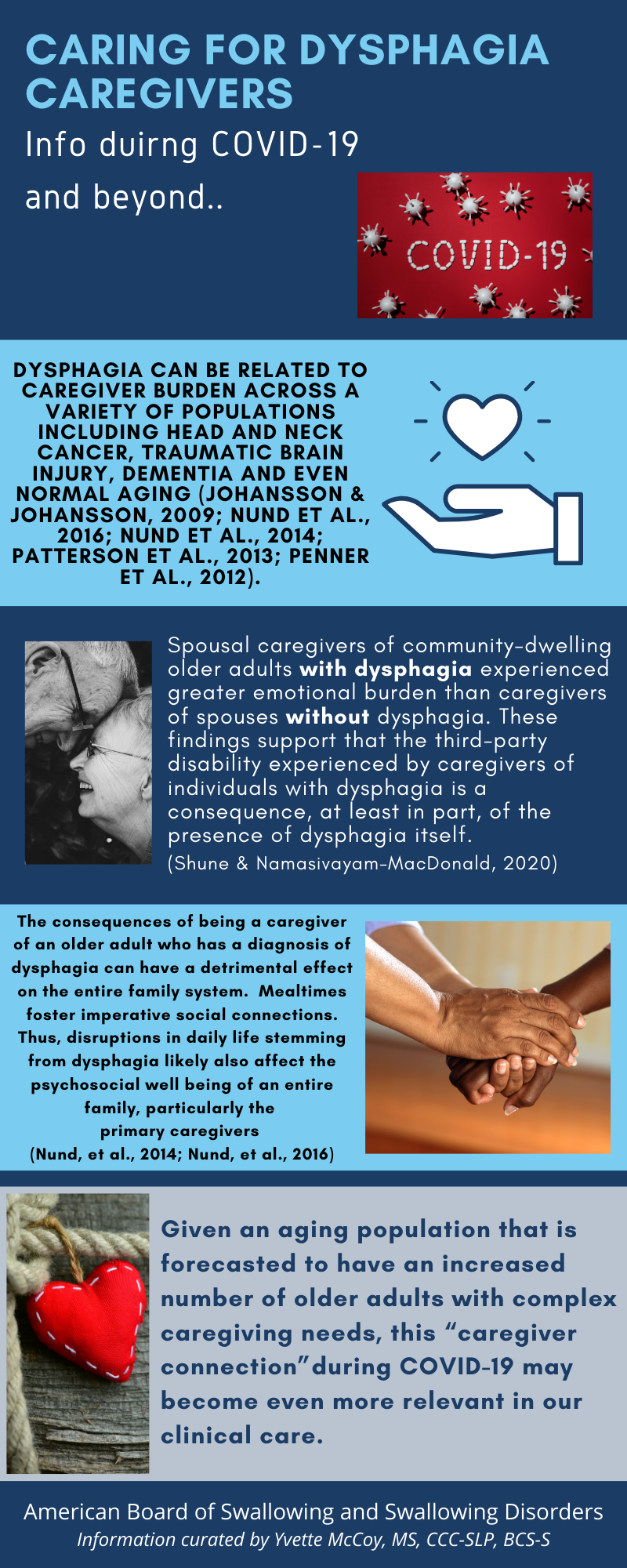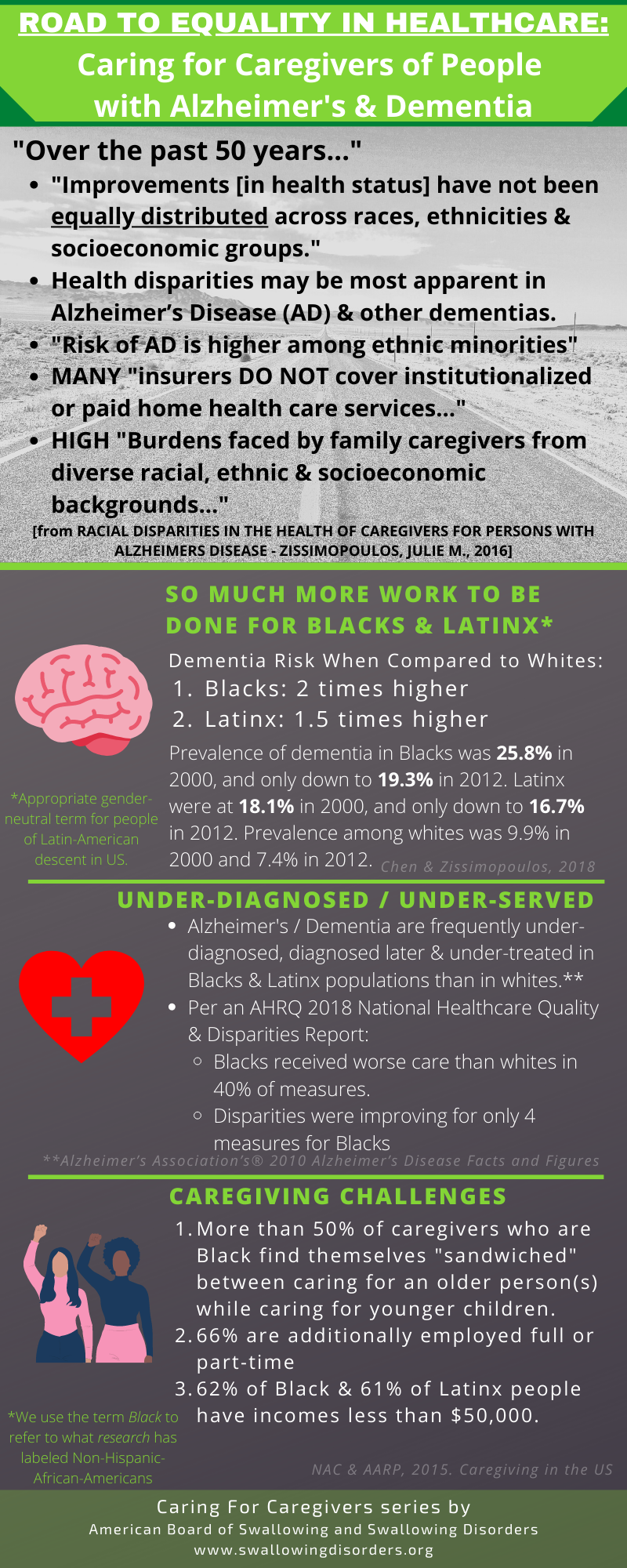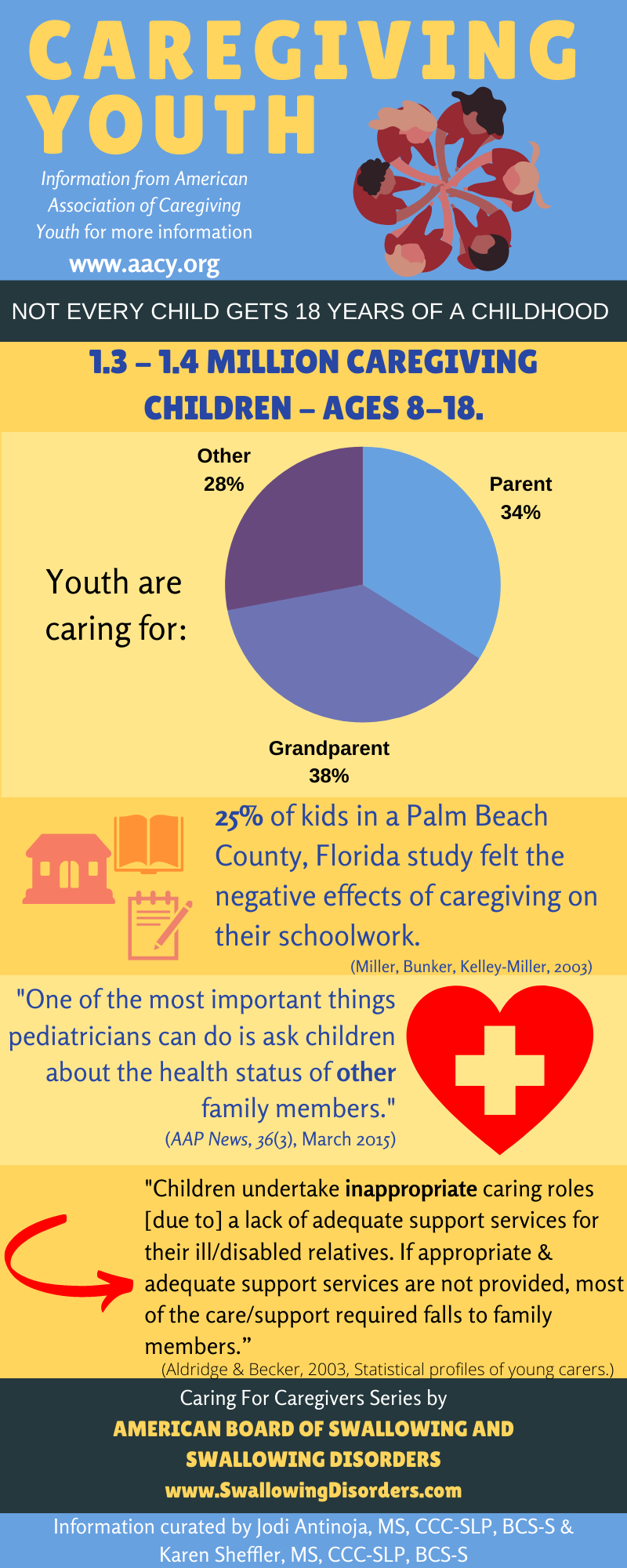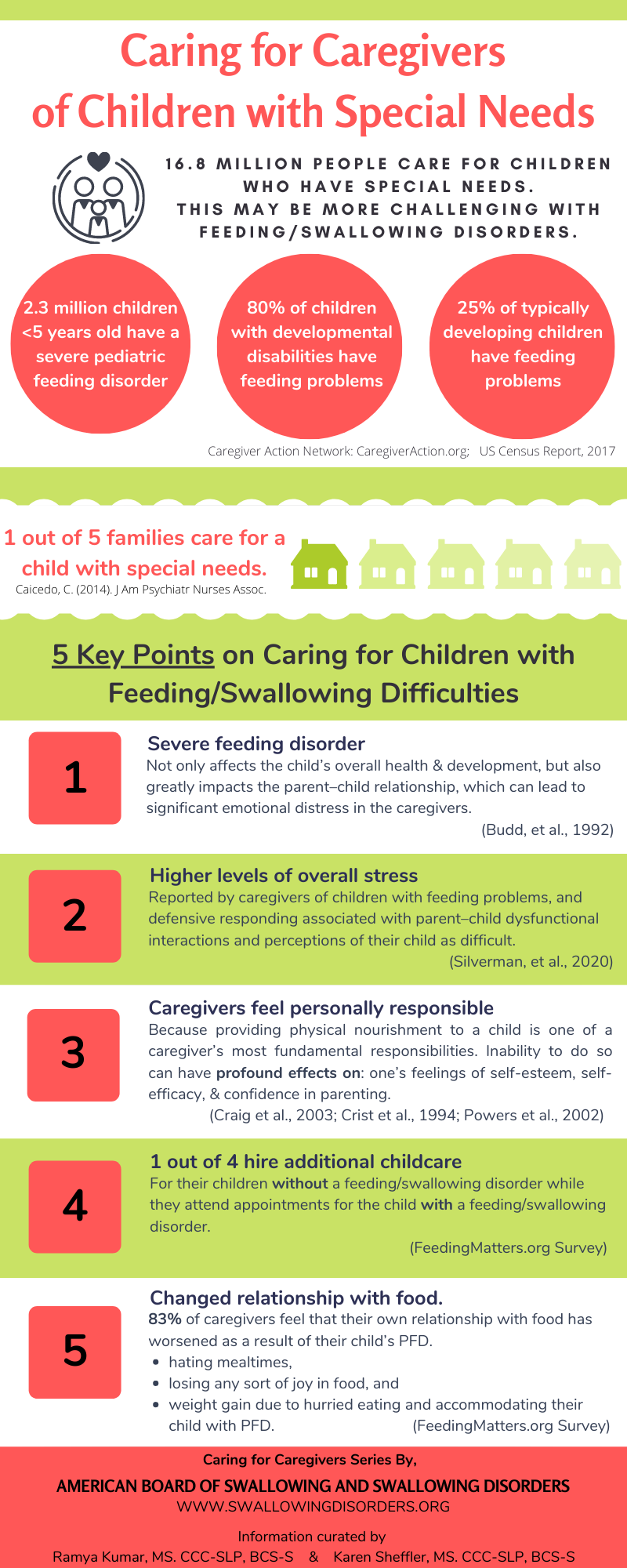 Thank you for reading and sharing to raise #DysphagiaAwareness!
If you want to raise #DysphagiaAwareness and support caregivers more, please check out our caregiver blog here, with special sections by Dr Shune and Dr Namasivayam-MacDonald. I also encourage you to watch the webinar and discussion from June 18, 2020 with these researchers, a mom who is also an SLP (Theresa Richard, MA, CCC-SLP, BCS-S), and clinicians on ABSSD's Facebook page, or watch video embedded above. Here are sneak peaks with Dr Shune's "MicDrop" and tips for how speech-language pathologists and healthcare providers can support caregivers.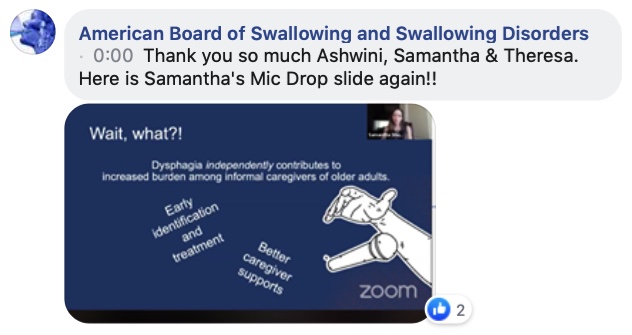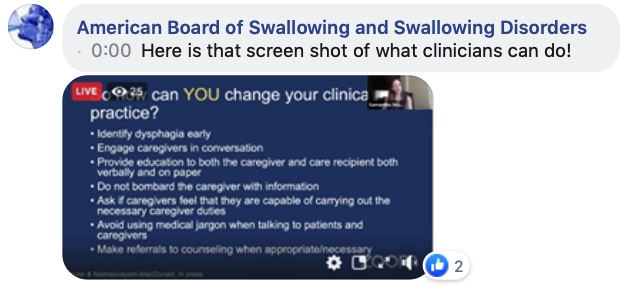 If that last slide is a bit fuzzy, allow me to print that again:
Actions on What Clinicians can do to Support Caregivers: 
Identify dysphagia early.
Engage caregivers in conversation.
Provide education to both the caregiver and care recipient – verbally and on paper.
Do not bombard the caregiver with information.
Ask if caregivers feel that they are capable of carrying out the necessary caregiver duties.
Avoid using medical jargon when talking to caregivers and people with dysphagia.
Make referrals to counseling when appropriate/necessary.
As of November 2020 – we can add a 26 question screening tool to our toolbox that can help us measure caregiver burden. This is similar to the EAT-10 we all use to measure dysphagia and quality of life burdens in individuals with dysphagia. Let's include the primary caregivers with CARES:
CARES Screening Tool by Shune, S.E., Resnick, B., Zarit, S.H. & Namasivayam-MacDonald, A.M. (November, 2020). Creation and Initial Validation of the Caregiver Analysis of Reported Experiences with Swallowing Disorders (CARES) Screening Tool. American Journal of Speech-Language Pathology, 29, 2131-2144. https://doi.org/10.1044/2020_AJSLP-20-00148
*****
REFERENCES 
(From Drs Shune & Namasivayam-MacDonald – per June 18, 2020 Webinar):
Arslan, S.S., Demir, N., & Karaduman, A.A. (2017) The anxiety level of caregivers of neurological patients with dysphagia. Dysphagia, 32, 570–574.
Doherty, W. J., & Baird, M. A. (1986). Developmental levels in family-centered medical care. Family Medicine, 18, 153-156.
Gibson, M.J., & Houser, A. (2007). Valuing the Invaluable: A New Look at the Economic Value of Family Caregiving; Issue Brief; Public Policy Institute (American Association of Retired Persons): San Francisco, CA, USA, Volume IB82, pp. 1–12.
Johansson, A.E.M., & Johansson, U. (2009). Relatives' experiences of family members' eating difficulties. Scandinavian Journal of Occupational Therapy, 16, 25–32.
Lyons, K. S., & Lee, C. S. (2018). The Theory of Dyadic Illness Management. Journal of Family Nursing, 24(1), 8-28.
Namasivayam-MacDonald, A. & Shune, S. (2018). Dysphagia-related burden in caregivers of the elderly: A systematic review. Geriatrics, 3, 30.
Namasivayam-MacDonald, A. & Shune, S. (2020). The influence of swallowing impairments as an independent risk factor for burden among caregivers of aging parents: A cross-sectional study. Geriatric Nursing, 41(2), 81-88.
Nund, R. L., Scarinci, N. A., Cartmill, B., Ward, E. C., Kuipers, P., & Porceddu, S. V. (2014). Application of the International Classification of Functioning, Disability and Health (ICF) to people with dysphagia following non-surgical head and neck cancer management. Dysphagia, 29, 692-703.
Nund, R. L., Scarinci, N. A., Cartmill, B., Ward, E. C., Kuipers, P., & Porceddu, S. V. (2016). Third-party disability in carers of people with dysphagia following non-surgical management for head and neck cancer. Disability and Rehabilitation, 38(5), 462-471.
Nund, R. L., Ward, E. C., Scarinci, N. A., Cartmill, B., Kuipers, P., & Porceddu, S. V. (2014). Carers' experiences of dysphagia in people treated for head and neck cancer: A qualitative study. Dysphagia, 29, 450-458.
Patterson, J.M., Rapley, T., Carding, P.N., Wilson, J.A., & McColl, E. (2013). Head and neck cancer and dysphagia; caring for carers. Psychooncology, 22, 1815–1820.
Penner, J.L., McClement, S., Lobchuk, M., & Daeninck, P. (2012). Family members' experiences caring for patients with advanced head and neck cancer receiving tube feeding: A descriptive phenomenological study. J. Pain Symptom Manag., 44, 563–571.
Pucciarelli, G., Vellone, E., Savini, S., Simeone, S., Ausili, D., Alvaro, R., . . . Lyons, K. S. (2017). Roles of changing physical function and caregiver burden on quality of life in stroke: A longitudinal dyadic analysis. Stroke, 48(3), 733-739.
Reinhard, S. C., Feinberg, L. F., Houser, A., Choula, R., & Evans, M. (2019). Valuing the invaluable: 2019 update – Charting a path forward. AARP Public Policy Institute.
Rolland, J. S. (1994). Families, Illness, & Disability. New York: BasicBooks.
Rolland, J. S. (2012). Mastering family challenges in serious illness and disability. In F. Walsh (Ed.), Normal family processes (4th ed., pp. 452-482). New York, NY: Guilford Press.
Rolland, J. S. (2017). Neurocognitive impairment: Addressing couple and family challenges. Family Processes, 56(4), 799-818.
Shune, S. & Namasivayam-MacDonald, A. (2020). Swallowing impairments increase emotional burden in spousal caregivers of older adults. Journal of Applied Gerontology, 39(2), 172-180.
Shune, S. & Namasivayam-MacDonald, A. (in press). Caregiver burden in dysphagia: Moving beyond the physiological impairment. Perspectives on Swallowing and Swallowing Disorders.
Torti, F. M. J., Gwyther, L. P., Reed, S. D., Friedman, J. Y., & Schulman, K. A. (2004). A multinational review of recent trends and reports in dementia caregiver burden. Alzheimer Disease and Associated Disorders, 18(2), 99-109.
Wolff, J. L., Spillman, B. C., Freedman, V. A., & Kasper, J. D. (2016). A national profile of family and unpaid caregivers who assist older adults with health care activities. JAMA Internal Medicine, 176(3), 372-379.