Online Webinar and Training Services

With her global collaborations, clinical expertise and witty humor, Karen will enrich your next conference, lecture and training series or webinar.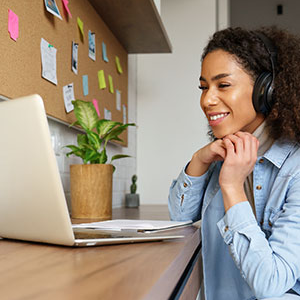 Karen stays current on the latest evidence through literature reviews, direct communications with researchers, and by attending many conferences. 
In fact, she earned her 8th Award for Continuing Education (ACE) in 2018. This award is given out to Speech-Language Pathologists who achieve 70 contact hours in a 3 year period. Per the American Speech-Hearing-Language Association (ASHA) Continuing Education Board
"Ms Sheffler joins a select group of individuals who have made a concerted, personal effort to continue professional learning beyond an academic degree."
Thickened Liquids: One Tool in Our Dysphagia Toolbox
By the end of this webinar, participants will be able to:
Understand that instrumental evaluations are necessary to accurately determine the need for a thickened liquid.
Explain the rationale for thickening liquids and what a thickener is.
Identify the levels of thickness (apparent viscosities).
Discuss patient safety benefits and risks.
Present effective collaboration with the RD and SLP and the interdisciplinary team with holistic approach for "person-centered care."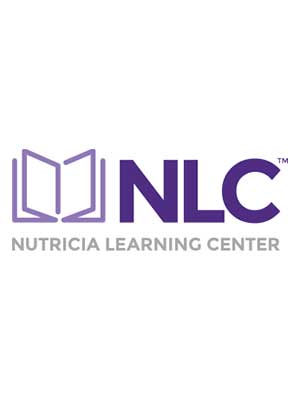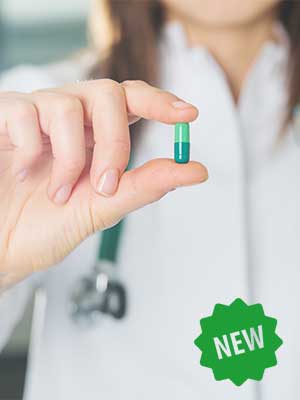 Medications: Drug-Induced Dysphagia, Complications, and Potential Treatments
Medications: Drug-Induced Dysphagia, Complications, and Potential Treatments
Immediately improve

 

your knowledge base regarding medications that can potentially help versus harm a person's eating and swallowing safety
Resources

 

to use on-the-job and to further your learning
Helpful

 

chart

 

to organize classes of drugs and their side effects
Practical

 

information to make you a valuable collaborative member of the medical team
Add practical safe swallowing strategies

 

to your dysphagia toolbox to help peopleswallow pills easier and absorb their medications better
What Every Therapist Needs to Know About Dysphagia
Improve your ability to perform thorough swallowingevaluations; maximize the utility of the clinical bedside swallowing evaluation to develop hypotheses that will guide further testing
Develop comprehensive evidence-based practice treatment programs, which are compensatory and rehabilitative to improve patient outcomes.
Utilize the most appropriate instrumental swallowing assessments such as Videofluoroscopy (MBSS) and Videoendoscopy (FEES)
Aspiration pneumonia prevention and aspiration precautions strategies you can use the next day to reduce risks, while not sacrificing quality of life
Hands-on labs to thicken liquids and to understand the new food and liquid diet framework from the International Dysphagia Diet Standardization Initiative (IDDSI)
Become an effective advocate for dysphagia awareness and to obtain the needed services for your patient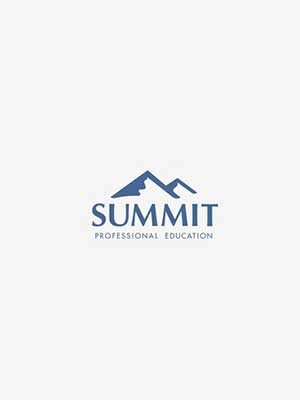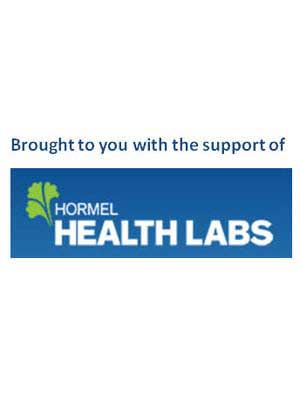 Hormel Health Labs' IDDSI Webinars
These FREE webinars are brought to you with the support of Hormel Health Labs.
In-Service Training Series: IDDSI Testing
This series of training videos is designed to help in-service staff gain the skills needed to understand and adopt effective testing and analysis of food and liquids according to the IDDSI Framework.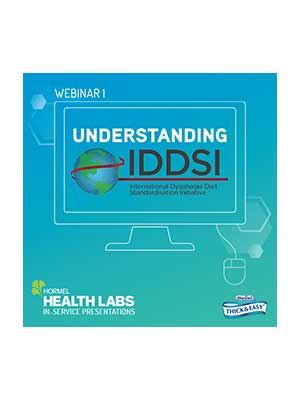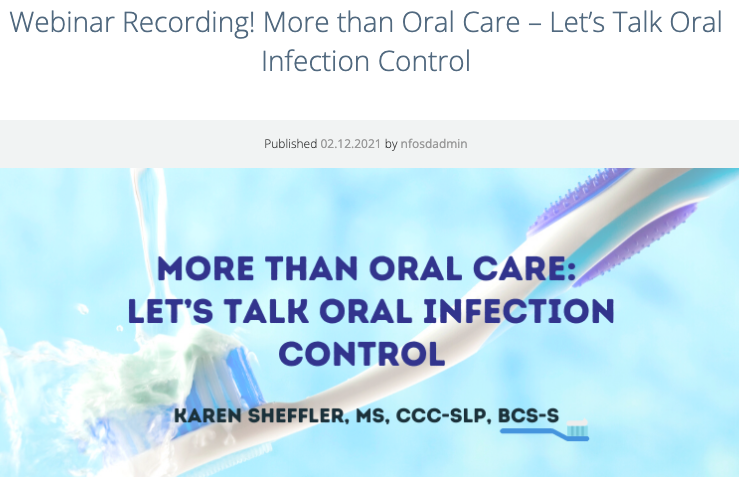 More than Oral Care – Let's Talk Oral Infection Control
Research on the importance of good oral care dates back to 1975 at least. However, it is time we start using the terms: "oral infection control" and "oral decontamination," as this is beyond a care and comfort need. Preventative measures are as important for community dwellers as they are for people in institutions. Thorough oral infection control is as crucial for someone who is NPO (not eating by mouth) as it is for the person who wants to consume their favorite foods and drinks despite an "aspiration risk."
Learner Goals of This Seminar:
Discuss research studies on how good oral hygiene/oral infection control practices can help prevent aspiration pneumonia.

List characteristics of saliva and a healthy versus altered microbiome (discussing biofilm and gram-negative bacteria). 

Understand how video examples and pictures may strengthen your case to improve  oral infection control practices in your home or facility.

Implement simple tests of the oral cavity that can be performed by caregivers and healthcare providers.
Perform necessary steps for oral decontamination (when the oral microbiome is already altered) and oral infection control (ongoing preventative measures). 
REFRAMING DYSPHAGIA DOCUMENTATION WITH A PERSON-CENTERED CARE APPROACH
Karen Sheffler, MS, CCC-SLP, BCS-S and Yvette McCoy, MS, CCC-SLP, BCS-S, two board-certified dysphagia specialists, are proud to provide this extensive training (MedbridgeEducation.com) on how to document well within a person-centered care approach. We filled this course with useful infographics and handouts!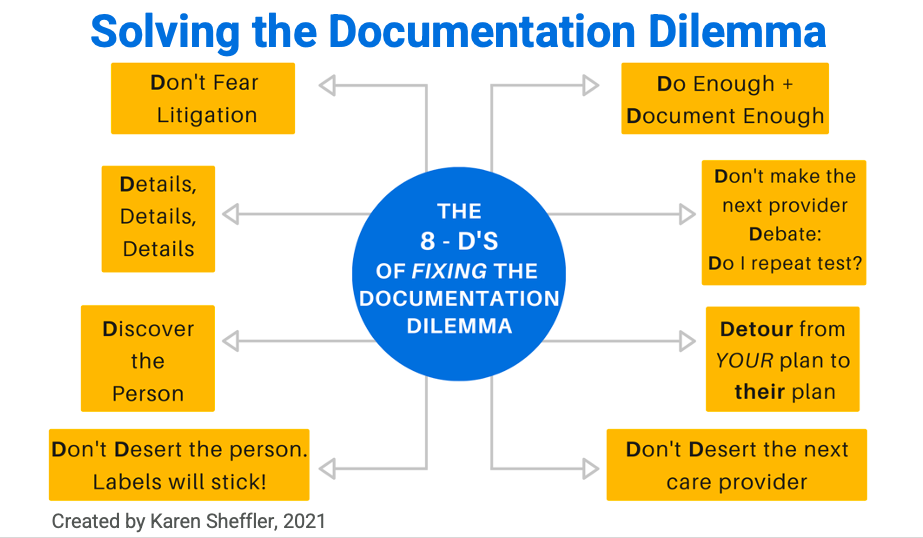 Description: 
How we document has a profound influence on people with dysphagia (and their family/caregivers). Practicing and documenting in a person-centered care (PCC) approach shifts the focus away from the traditional medical model and moves toward personal choice and autonomy for people and their families. This course will discuss:
How to solve the documentation dilemma.

Good documentation: 

shows that you are providing prudent and reasonable care that is up to evidence-based standards, 

provides effective interdisciplinary communication across the continuum of care, and

delineates a person's wishes. 

Thorough documentation also describes underlying swallow pathophysiology, guides differential diagnosis, and provides a prescriptive therapy program that meets the person's goals of care.

Clinicians need to understand the shared decision-making approach and the informed consent process. Both require thorough documentation. 

Effective documentation and communication will not only protect a healthcare provider in litigation, but it will also make sure that the person arrives at their informed decisions voluntarily and without coercion.
DISCOUNT CODE: 
SWALLOWstudy – to subscribe to Medbridge to support my creation of valuable dysphagia content. Thank you. 
More Services Offered by Karen Sheffler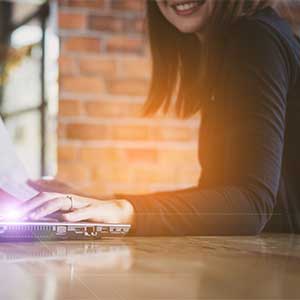 A speech-language pathology (SLP) medical expert witness is someone who is qualified (by extensive clinical experience and study) to form opinions.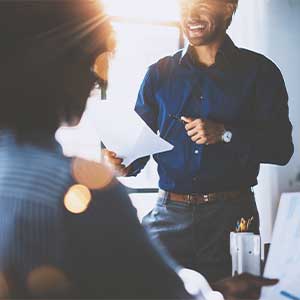 Expert-opinion on dysphagia products for industry & collaboration with organizations.
Industry & Organization Support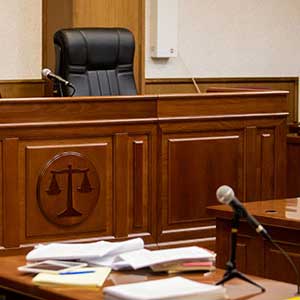 Dysphagia expert witness in litigation to help you make your case.