Graduation is Only the Beginning:
Importance of Continuing Education in Dysphagia
By Ainsley Martin, MS, CCC-SLP, guest blogger for SwallowStudy.com
Editor: Karen Sheffler, MS, CCC-SLP, BCS-S of SwallowStudy.com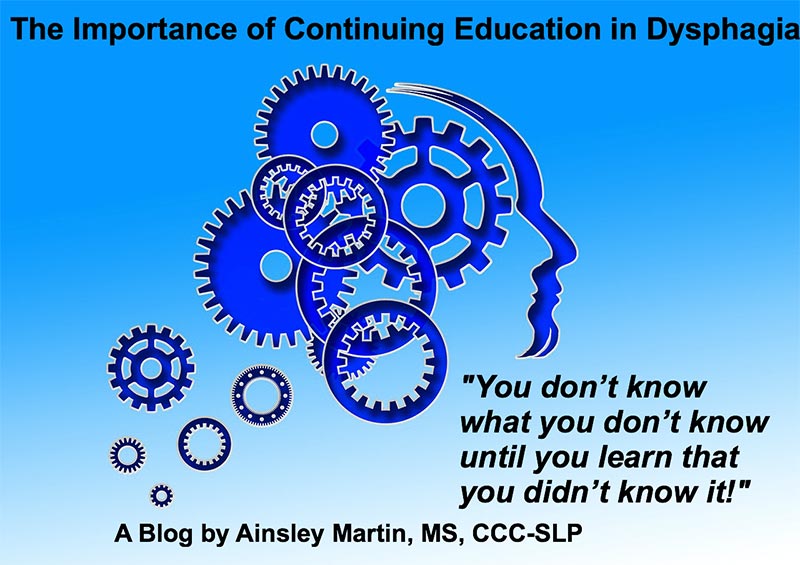 "There is no end to education. It is not that you read a book, pass an examination, and finish with education. The whole of life, from the moment you are born to the moment you die, is a process of learning." – Jiddu Krishnamurti
This quote accurately summarizes one of the most profound lessons from my speech-language pathology (SLP) graduate school dysphagia course. At the end our final class of the semester, my professor of dysphagia implored all in attendance to remain humble and continue learning. Dysphagia is only one part of our SLP training, but it is the one aspect of our field in which we not only can prevent our patients from making progress, but we can also cause them serious harm. We were encouraged to:
seek out mentors,
never become overconfident in our dysphagia skills, and to
always continue learning.
I always keep these lessons in mind.
After graduation, I found myself confronted with my Clinical Fellowship Year (CFY) at a 500+ bed SNF. Although I had support from my CF supervisor, it was made clear that I was to act as an independent clinician. I was faced with patients, some of whom I had only learned about in theory. The list of diagnoses and abbreviations were endless: cerebrovascular accidents (CVAs), traumatic brain injuries (TBIs), Amyotrophic Lateral Sclerosis (ALS), Multiple Sclerosis (MS), head and neck cancer, Parkinson's Disease (PD), Alzheimer's Disease (AD), people with trachs and on ventilators, total laryngectomies, and on and on. This was the 'real world' all SLP graduate students had heard of, but were so far removed from in our sanitized, clean, and safe school clinics with our clinical supervisors no further than a hallway away. Dysphagia was, of course, a major portion of my caseload. I quickly realized how different the real world was. I also realized that I was considered the swallowing expert, for lack of a better word, and had better have answers when the nurses, physicians, or family members came knocking.
So, after putting in 10 to 11-hour days at work, I would come home and research any diagnoses I was unsure of, ideas for evaluations and treatment, and additional therapy tools. Google Scholar, PubMed and my old class notes became my best friends. I also sought out additional mentors whenever I could.  My rehabilitation director at the time reluctantly agreed to let me go out on appointments with my patients (off the clock, of course). I saw and occasionally participated in modified barium swallow studies (aka, videofluoroscopic swallow studies/VFSS), endoscopies, and a placement of a tracheal-esophageal prosthesis. I was in awe at the knowledge these other SLP's possessed and wondered:
"What do I need to do to know what they knew."
While I couldn't possibly gain 10-20 years of experience in 36 weeks, I knew where I could learn from others who had decades of clinical experience. In addition to my own self-study, I began to peruse some of the the ASHA website for CEU opportunities and self-study courses and various conferences.
My continuing education fascination became an addiction when I had the amazing opportunity to attend a course at Marquette University, Brain Dissection and Neuroscience: Applications to Disorders of Language and Speech Functions. While at this seminar, not only did I learn more neuroanatomy than I had in 2.5 years of grad school, but I was able to dissect an actual human brain and witness a craniotomy! This is arguably one of the coolest things I've done in my entire existence. While at this seminar, I had the privilege of meeting Yvette McCoy, a Board-Certified Specialist in Swallowing and Swallowing Disorders (through the American Board of Swallowing & Swallowing Disorders/ABSSD), who encouraged me to begin the process for my own board certification. I now had an excuse to give in to my continuing education addiction! I have been like a kid in a candy store ever since.
So, why invest all of this time, money, & energy into continuing education in dysphagia?
Simply, graduate school does not teach all the skills needed to evaluate and manage dysphagia. Medical SLPs in adult settings spend well over half of their day working in the area of dysphagia (2); however, in an e-survey conducted by Yvette McCoy and Rinki Varindani Desai in 2015, 61% of the 719 participants did not feel prepared to manage dysphagia following completion of their graduate programs (1). What is learned in graduate school dysphagia courses provides an excellent foundation; however, it the clinician's responsibility to build upon that foundation through lifelong learning. Since the late 1970's when SLPs began to make a mark on the field of dysphagia, our role has grown and evolved in the assessment and treatment of swallowing and swallowing disorders. More research is done every day into the most effective methods of evaluating and treating dysphagia. With this new research comes the realization that what we were doing 20 years ago, and even 5 years ago, is not necessarily best practice now. We owe it to ourselves and to our patients to keep abreast of the latest research and use evidence-based interventions. In my own practice, I have noted how my approach and even my documentation has changed, sometimes even from week to week. (Frankly, I'd be a little concerned if my dysphagia evaluations sounded the same today as they did 2 years ago when I finished my CFY.) The majority of my knowledge in dysphagia was gleaned from continuing education courses and conversations with more experienced SLPs.
Think about the last time you experienced a "push-back" from a physician, rehab director or nurse about why you made a certain decision or asked for a certain examination. Remember the last time you had a family member question your therapy and your approach with their loved one. Were you prepared? When presented with those situations, being able to refer to the literature that supports your decision-making is invaluable. It may help you advocate for the instrumental examinations and referrals that your patients need. Patients and family members will also appreciate it when you can explain the rationale behind your recommendations or therapy approaches.
Another reason continuing education is so important is that it provides an opportunity to meet, interact, and network with SLPs and other related disciplines. Though also not taught in grad school, networking opens many doors for collaboration, skill building, incidental learning, support, and career advancement. Sometimes, it also just helps for emotional support to know that an SLP across the country is experiencing the same struggles. It is also encouraging and inspiring to share in each other's success stories.
Lastly, you don't know what you don't know until you learn that you didn't know it! 
Or something like that! I remember when my dad was teaching me how to drive, he told me: "when you become too comfortable and too confident, that's when it can be really dangerous." Reflecting on my beginning years as a clinician, I used to have such a false sense of confidence in my dysphagia management skills. I got lucky with a few successful modified barium swallow studies, and I thought that I really was THE dysphagia expert. I wasn't, I'm still not, and I won't ever be because there is always more to learn and room to grow. It is so important to always continue to keep our minds open to new treatment, research, and ideas and changing our approaches as needed. With each conference I attend, I learn that there is still so much more to learn.
I will end with a few examples of courses/experiences that have influenced me.
I would say the course that most changed my approach to dysphagia treatment was the McNeill Dysphagia Therapy Program (MDTP). I know a lot of people say that, but it's true. I was fortunate enough to attend the MDTP training in Orlando in January 2018, and it completely changed the way I view food and liquid trials. The concept of using trials like weights in the gym to improve the strength, speed, and efficiency of the overall swallowing mechanism was mind-blowing.
I also attended Dr. Eric Blicker's FEES training last year. Dr. Blicker is incredibly knowledgeable and willing to help clinicians new to FEES. While at his course, I received advice re: options for pursuing a clinical doctorate in SLP, suggestions for my BCS-S application, and ideas for implementing a FEES program at my current facility. Since that first course, Dr. Blicker has graciously offered opportunities for additional scope passes for volunteering at his courses. I take full advantage when there are courses in New York as I enjoy the additional practice and the interaction. I also had the privilege of meeting some amazing FEES trainers who I still keep in touch with including the one and only Theresa Richard, MS, CCC-SLP, BCS-S. When the time comes to implement a FEES program at my facility (hopefully soon), I'll know exactly who to call! (Editor's note: I would also like to equally mention SEC Medical Speech Pathology Consulting & Training for their courses). — We are not making any commission on supporting our colleagues here!
The most recent, and probably the most intense, conference I attended was the Dysphagia Research Society's (DRS) Annual Meeting. (You can see the plethora of prior DRS blogs on this website.) DRS is the largest interdisciplinary conference I've attended where professionals from various disciplines and backgrounds are brought together to reduce the gap between research and clinical practice in management of dysphagia. I felt like DRS was almost like the dysphagia version of the Oscars. Admittedly, I felt a little out of place when I realized I was in the same room as Dr. Reza Shaker (yes, that Dr. Shaker), Dr. Bonnie Martin-Harris, Drs. Crary and Carnaby, Dr. Susan Langmore, and Dr. Ianessa Humbert – just to name a few. As the conference progressed, I realized that these experts in dysphagia were in attendance for the same reason I was. To further learn and share information about the best practices for evaluating and treating our patients with dysphagia. Of course, I also met Karen Sheffler, MS, CCC-SLP, BCS-S of SwallowStudy.com at DRS this year, which is how I'm writing this now!
For those who may have difficulty attending live courses, either due to financial reasons or family and professional obligations, I have learned a lot from online courses and webinars. The benefit of online courses is that you can learn the material at your own pace without the added cost of travel, and it doesn't feel like as much of an information overload. The two online ASHA webinars that I took that really changed the way I treat patients with dementia and older persons with dysphagia were two ASHA courses (no longer available when checked in 2020):
An ASHA course called: Maximizing Functional Outcomes for Patients with Dementia and
Dysphagia in Older Adults.
Through these courses, I learned that there are evidence-based interventions to achieve functional improvements in patients with dementia. I also learned that alternate forms of nutrition/hydration can potentially be harmful, especially in the older population with dementia.
Additionally, here are just a few online continuing education resources:
Editor's Note for courses by Karen Sheffler, MS, CCC-SLP, BCS-S:
Courses through SummitEducation:
I also would like to mention my two online courses on VFSS on SpeechPathology.com (See links for Part 1 & Part 2).
If you have realized that you need more education on the International Dysphagia Diet Standardisation Initiative (www.IDDSI.org), then head over to their website, sign up for their e-newsletter, and download the free IDDSI app on your devices.

See Hormel Health Labs for Free IDDSI Webinars through BeckyDorner.com at link below (also important to highlight that I make no commission, but it is such an important topic now).
***
In summary, I hope after reading this, there is no longer a question of why it is important to invest in continuing education in dysphagia.
I hope the question you're asking yourself is, "Why not?"
References:
McCoy, Y & Varindani Desai, R. (2016). Adequacy of dysphagia graduate preparation in the United States: Results of national survey. Poster presented at the Dysphagia Research Society Annual Meeting, Tucson, AZ.
ASHA SLP Health Care Survey Report: Patient Caseload Characteristics Trends, from 2005 to 2013: https://www.asha.org/uploadedFiles/2005-2013-SLP-Survey-Caseload-Characteristics-Trends.pdf
Financial disclosures:
Ainsley Martin has nothing to disclose.
Karen Sheffler receives a speaker's stipend from Summit Education, and when Summit offers it as an online version, Karen will receive a commission on views. Karen has an affiliate relationship with Medbridge. If you become a Medbridge subscriber through following the Medbridge link above, SwallowStudy.com will receive a small commission. Karen received honorariums from BeckyDorner.com for the IDDSI presentation and for the Speechpathology.com presentations, but no commission is made on their further promotions.
Non-financial disclosures:
Karen does not receive any other financial incentive to promote the other organizations and clinicians/researchers noted above, as she enjoys supporting fellow colleagues! Karen is on the website and public relations committee for DRS and the public relations committee for ABSSD.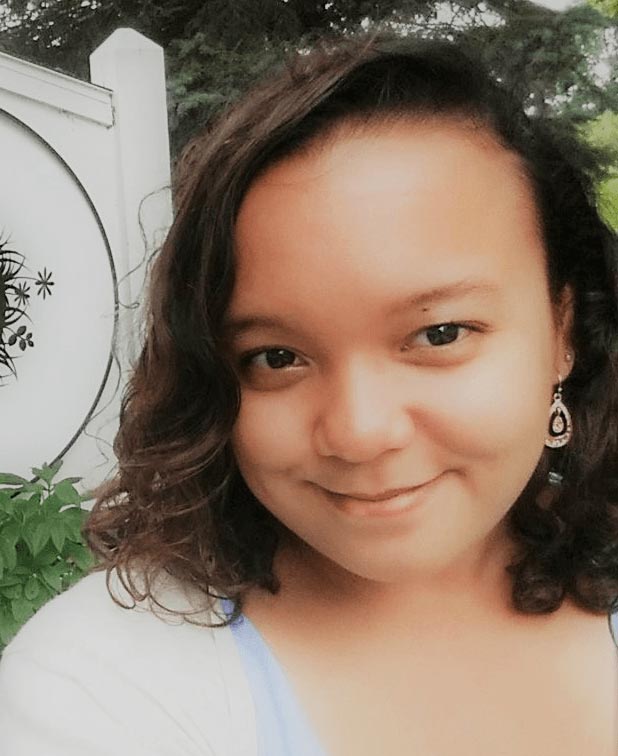 Ainsley Martin, MS, CCC-SLP is a medical Speech-Language Pathologist in Syracuse, NY. She graduated from Binghamton University with a Bachelor's in Linguistics in 2012 and Syracuse University with her Master's in SLP in 2015.She has experience treating dysphagia, communication disorders, and cognitive-linguistics with adults and geriatrics in skilled nursing facilities. Ainsley currently works for Elderwood Senior Care in Liverpool, NY.  She has been a guest speaker at Syracuse University and a presenter at the Alzheimer's caregiver support group at Brookdale Fayetteville. She is a member of the National Foundation of Swallowing Disorders (NFOSD), Dysphagia Research Society (DRS), New York State Speech-Language and Hearing Association, and the Central New York Chapter of the Alzheimer's Association. Ainsley has special interest in establishing an in-house FEES program, medical bioethics, respiratory muscle training, and increasing the influence of SLPs in skilled nursing to maximize the benefits for long term care residents. Find Ainsley on LinkedIn at: https://www.linkedin.com/in/ainsley-martin-298183166/