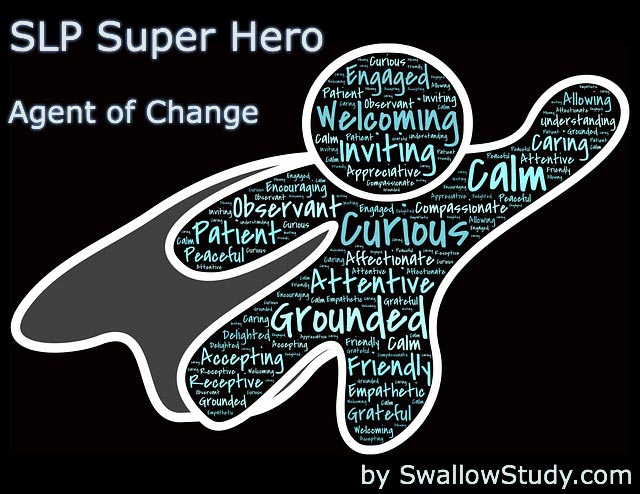 Agent of Change in Dysphagia:
Reflecting on Dr. Steven Leder's Passing
by Karen Sheffler, MS, CCC-SLP, BCS-S of SwallowStudy.com
As Speech-Language Pathologists (SLPs) looked forward to the American Speech-Language Hearing Association's Convention in Philadelphia November, 2016 (#ASHA16), they reflected on those who could not be at the convention. The passing of Steven B. Leder, PhD, CCC-SLP on May 16, 2016 affected many in the dysphagia community. Our hearts have gone out to family, friends and close colleagues. Steven Leder was a constant agent of change in the field of swallowing and swallowing disorders (dysphagia).
In reviewing the #ASHA16 Program Planner, I found Dr Steven B. Leder as "presenting author" on two very important sessions. These two sessions will be still be lead by the other presenting authors: Dr Heather Warner, PhD, CCC-SLP and Dr Debra Suiter, PhD, CCC-SLP, BCS-S.
At prior conventions, has Dr Leder caused you to nod vigorously, cringe in surprise or frustration, or engage in healthy debate? Did he encourage you to ask the question you were too nervous to ask? Did he prod you to question your daily dysphagia beliefs and practices?
We will be missing the urgency in Leder's messages for decades to come. Sometimes we feel uncomfortable when new information suggests major changes in how we think and practice, but we must stay open while critically analyzing the new research. We also need to know how to advocate to make necessary changes in our institutions. These are daunting tasks!
Fortunately, researchers who have collaborated with Dr Steven Leder for many years will be carrying on his work to help you become an agent of change.
Recently, I had the opportunity to talk with one such researcher: Dr Heather L. Warner, Ph.D., CCC-SLP, who studied and worked with Dr Leder for 18 years. Warner is a clinician, published researcher and professor in the Communication Disorders Department, Southern Connecticut State University, New Haven, CT. Warner and Dr Debra Suiter, PhD, CCC-SLP, BCS-S (University of Kentucky Voice & Swallow Clinic) are committed to working closely, continuing the research, and presented the two sessions at #ASHA16.
"We wouldn't have it any other way," affirmed Warner.
Session 1: How and When to Assess Swallowing in Post-Extubation ICU Patients
Warner and I recalled the conventional rule-of-thumb regarding initiating oral intake after an endotracheal tube has been removed from a person in the intensive care unit:
NPO (nil per os / nothing by mouth) for the first 24-48 hours when a patient has been intubated for longer than 48 hours, especially taking into consideration any traumatic intubations, re-intubations and self-extubations.
However, one of Leder's missions was to return patients to oral intake faster if they are safe and appropriate to do so. Have we been too cautious? Are we unnecessarily extending the patient's ICU stay? Leder and colleagues were not satisfied with the fact that no real evidence-based guidelines existed to test for aspiration and dysphagia risk post-extubation.
Leder presented a poster of preliminary findings, after years of data collection, at the Dysphagia Research Society's (DRS) annual meeting, February, 2016, Tucson, AZ. Coauthors noted on the poster were: Warner, H.L., Suiter, D.M., Bhattacharya, B., and Schuster, K. The researchers postulated that clinicians will know how and when to assess patients for oral intake if institutions implement a reliable and valid swallow screen and test with Fiberoptic Endoscopic Evaluation of Swallowing (FEES) when the screen is failed. The screen can be performed at 1 hour, 4 hours and 24 hours post-extubation. (Note: Research cohort now at N=202 adults, 18 years of age or older.) This session at ASHA will provide the final results of this study and help guide clinical practice regarding when to evaluate swallowing function in our post-extubation patient population.
I discussed the study's numerous inclusion criteria with Dr Leder back in February at the DRS poster session. Dr Warner and I discussed the patients that were excluded from the cohort. If a patient was not alert, combative and completely not oriented, he/she was eliminated from the cohort. Warner confirmed the following criteria were used in the study:
Is your patient stable from a respiratory standpoint? (Review the chart. Look at the big picture. Discuss with the team. Dr Leder had noted that all the patients were cleared by the nurse and medical team.)

Is your patient NPO, but "cleared for oral alimentation" per the medical team?

Is your patient "awake and alert"?

Does the patient's mental status allow for safe participation (not combative, oriented, and following single-step verbal commands)?

Can your patient complete the Yale Swallow Protocol? (See prior blog for details and references: "Aspiration & Lessons from Steven Leder".)
Potential problems with developing guidelines and check-lists:
Dr Warner and I had a terrific discussion about benefits, and sometimes risks, of screening protocols, criteria check-lists and standardized assessments. We agreed our worry is that a clinician may follow only the check-list of criteria and neglect critical thinking and clinical judgement. Our discussion posed many questions:
Do you walk into a person's room with a cup of water and automatically start with water on every patient?

Do you do the same exact evaluation just because they meet the criteria of alert, awake, able to participate, able to lateralize the tongue, following commands, and oriented?

What if the person is oriented to place and not time?

What if they followed only some commands?
Warner wants to stress that clinicians need to use their own judgement, taking into consideration the whole patient – which can include so many factors. I was glad to have this discussion with Dr Warner, as this was frequently a topic of my conversations with Dr Leder at DRS and ASHA meetings in years past. (Read more about the nuances of dysphagia assessment with these prior blogs on: digging through the medical record, critical lab values in dysphagia assessment, and Pneumonia Alphabet Soup – Part 1 and Part 2). 
Warner noted that people worry that the swallow screening protocols may take away the speech-language pathologist's job. We even hear a nurse say: "I just did the bedside swallow evaluation, and he didn't cough," when the nurse meant to say she started with a "nursing swallow screening protocol." The SLP does the bedside swallow evaluation. The SLP uses critical analysis, sound clinical judgement and complex synthesis in bedside swallow evaluations and instrumental assessments. These aspects cannot be put on a check-list. We do not have to fear losing our jobs to the swallow screen. We do want to embrace multidisciplinary efforts to ensure appropriate referrals. Additionally, since the nurses are screening anyway, we should make sure that they are using a validated screening protocol.
Per Warner, there may never be a magic formula for a screen that identifies all patients with dysphagia, but we must use the evidence we do have to guide our protocols and clinical practice. It is our job to continue to use guidelines and standardized assessments without losing our critical thinking and clinical judgement throughout the continuum of care.
What do I do with this new information and evidence?
How do I become an agent of change?
Session 2: Advocacy for Best Practice in Swallow Screening
We were fortunate to hear Warner and Suiter's advice at ASHA 2016, as they present a session called: "Advocacy for Best Practice in Swallow Screening." This topic of advocacy is so important in our field. (See my prior blog: Decision-Making in Dysphagia Management, where I noted that SLPs need to also be excellent at marketing and advocacy). Leder, Suiter, and Warner have received a lot of emails asking for advice on implementing change, with questions such as: "What did you do to make this happen? Where do I start?" In this talk, Warner and Suiter could help you become an agent of change in your institution. They want to help clinicians take the useful information gained at ASHA and go back and apply it Monday morning and beyond. How does the clinician go from buy-in to implementation? Warner shared how in previous talks, she and Dr Suiter lead open and honest group discussions on barriers to implementation. She noted that SLPs need to know how to "package" the information, summarize evidence from the literature, and present it to the administration.
Summary:
Their first session highlighted Leder's 2015-2016 research and was presented at #ASHA16 on Thursday, November 17 at 6:30-7:30pm. The topic and discussion kept us awake after a long day! I looked forward to hearing more about the topic of post-extubation and return to oral alimentation. I looked forward to supporting Warner and Suiter, who will be carrying on Leder's legacy. In the future, Warner and Suiter will continue their collaboration, answering burning clinical questions. These are not just research questions. The issues are directly applicable in you, your patients and your institution. As Steven Leder's #ASHA16 bio reminds us, "He saw patients every day."
To help with the practical implementation of new evidence, we stayed late on Friday evening too. From 5-6 pm, Warner and Suiter discussed ways to advocate for your department and your patients, using the example of how to implement best practice in swallow screening and assessment.
Warner and Suiter will continue to help you be an agent of change in your institution – a true SLP super hero! After all, in reflecting on Dr Leder's goals and tremendous influence, Heather Warner frequently said:
 "He would have wanted it that way."
*******
Read More about the late Dr Steven Leder, PhD, CCC-SLP:
Steven B. Leder: In Memoriam, published this October in the Dysphagia journal by Dr Leder's colleague, Dr Clarence T. Sasaki, Professor of Surgery at Yale School of Medicine. Dr 

Sasaki described writing with Dr Leder in the editorial section called,

Comments

in the journal,

Dysphagia

:




"His was the voice of unrestrained enthusiasm or unbridled disappointment. (Mine was to keep us out of trouble with the Publisher)…"  

SwallowStudy.com Blog: Aspiration & Lessons Learned from Steven Leder 
SwallowStudy.com Blog: A Tribute to Steven Leder's Contributions to FEES: "20 Reasons to Choose FEES: The Proof is in the Pudding" 
*******
For Your Reference, Here are Sessions from ASHA 2016:
1. Session Code: 1255
Title: How & When to Assess Swallowing in Post-Extubation ICU Patients
Day: Thursday, November 17, 2016
Time: 6:30 PM – 7:30 PM
Location: Pennsylvania Convention Center Room: 122AB
Session Format: Seminar 1-hour
Presenter(s) :
Steven Leder, Yale School of Medicine
Heather Warner, Southern Connecticut State University (presenting author)
Debra Suiter, University of Kentucky (presenting author)
Kevin Schuster, Yale School of Medicine
Abstract:
Reliable guidelines for how and when to resume oral alimentation in post-extubation ICU patients (n=202) are provided. A swallow screen administered at 1, 4, & 24-hours post-extubation determined aspiration risk followed by FEES to diagnose dysphagia. 82.2% of participants swallowed successfully 1-hour post-extubation. Only intubation duration significantly affected swallowing success.
Learner Outcomes:
Learner Outcome 1: Describe major elements of the study design
Learner Outcome 2: Discuss the authors' conclusions
Learner Outcome 3: Identify possible implications for practice
2. Session Code: 1526
Title: Advocacy for Best Practice in Swallow Screening
Day: Friday, November 18, 2016
Time: 5:00 PM – 6:00 PM
Location: Pennsylvania Convention Center Room: Ballroom B
Session Format: Seminar 1-hour
Presenter(s):
Heather Warner, Southern Connecticut State University (presenting author)
Debra Suiter, University of Kentucky (presenting author)
Steven Leder, Yale School of Medicine
Abstract:
Clinical practice has not kept pace with research on screening for aspiration risk. Blinded comparisons of simultaneous clinical swallowing evaluations versus fiberoptic endoscopic evaluations of swallowing found discrepancies in interpretation but not in clinical recommendations. Consequences are discussed. An advocacy plan for implementation of evidence-based practice change is provided.
Learner Outcomes:
Learner Outcome 1: Understand the subjective nature and limitations of the clinical swallowing evaluation
Learner Outcome 2: Understand why non-evidence-based clinical swallow evaluations are administered
Learner Outcome 3: Understand the importance of knowing pharyngeal and laryngeal anatomy and physiology and bolus flow characteristics in patients referred for swallowing problems