Conquer It In IDDSI Bitsy Bites!
Sue Linja, RDN, LD, Owner, S&S Nutrition Network, Inc.
When I was a little girl in small-town Idaho, we didn't always have a lot to keep us busy. We often made up songs about people and their trials and tribulations, including this little ditty about my cousin, Mitzi.  While it didn't go exactly like this, the rhyme has stuck in my head, so I thought I'd share it (especially since it will teach everyone to say the acronym "IDDSI" right).
Itsy-bitsy little Mitzi
She loves good food, not ritzy
She has a stroke, poor little Mitzi
And now she lives because of IDDSI
_____________________
The very first time I saw the words, International Dysphagia Diet Standardisation Initiative, I was immediately obsessed with why there was no "z" in standardisation.  I quickly realized the global origins of the spelling! I immediately replaced that concern with a "freak out" about how we would ever accomplish all of the necessary changes in our skilled nursing facilities and small hospitals across our state.  But with each new challenge—whether it be how to serve the gravy with the mashed potatoes or if blueberries can ever pass the testing methods—the answers become clearer, and the change to IDDSI becomes less daunting.
I wanted to share how we tackled IDDSI implementation in our small, rural northwestern state in hopes that some of you will have less anxiety over the transition.
A little about my home State of Idaho:
75 million people and 84,000 square miles. Yes, that is a little less than 5 people per square mile!
Approximately 50 hospitals and 80 skilled nursing facilities.
Approximately 800 Licensed Registered Dietitian Nutritionists (RDs) and a similar number of Speech Language Pathologists (SLPs).
44 people in Idaho died from accidental choking in 2016.
That last data point was just one of our motivators.
When you look at these low numbers of both people and healthcare professionals living in the state, you may think: "It couldn't be that hard to get everyone on the same page", right?  While it has not been easy, it has been fulfilling.
I'd like to give you a brief glimpse into how we are putting IDDSI into action in Idaho:
1. In late 2017, we formed an ID-IDDSI Workgroup. (Just to confuse things, we added another "ID" for Idaho!)
The group was originally comprised of 14 members: RD's, SLP's, one Registered Nurse and one Certified Dietary Manager. The team has now grown to 45 members.
The workgroup meets (in person and via conference calls) once a month.
The monthly meeting agenda includes sharing new education, discussing progress made on previous meeting goals, and establishing new action items.
The original workgroup project was to get a contact for every SLP, RD and CDM in all 50 Idaho hospitals – knowing that most all diet orders originate in the hospital.
From this contact list, we sent a survey monkey to each contact to establish both their current knowledge base about IDDSI and to determine the desire of the hospitals to learn more about IDDSI. Then we created training opportunities.
2. A super IDDSI champion and SLP in his small Idaho town of 2100 residents transitioned the entire medical community (hospital, nursing home, assisted living and home care) to IDDSI in a matter of 6 months to lead the charge in the state. This inspired others.
3. Workgroup leaders have presented at both the Idaho Academy of Nutrition and Dietetics and the Idaho Speech, Language and Hearing Association annual conferences.
4. A lead Idaho RD has updated the Idaho Diet Manual to coincide with all IDDSI guidelines (with guidance from the IDDSI website and Karen Sheffler, MS, CCC-SLP, BCS-S, founder of SwallowStudy.com).
5. Social Media sites have been set up on Facebook, Instagram and Twitter to promote transition to IDDSI in Idaho.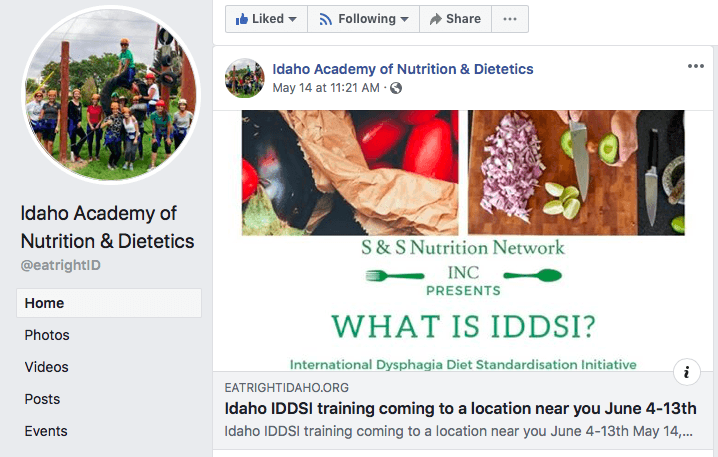 6. The workgroup has applied for a $200,000 grant to provide comprehensive education and individualized training to every skilled nursing facility in the state. While we are still waiting to hear the results of the grant, we are very hopeful this will be the boost we need to fully implement in our state.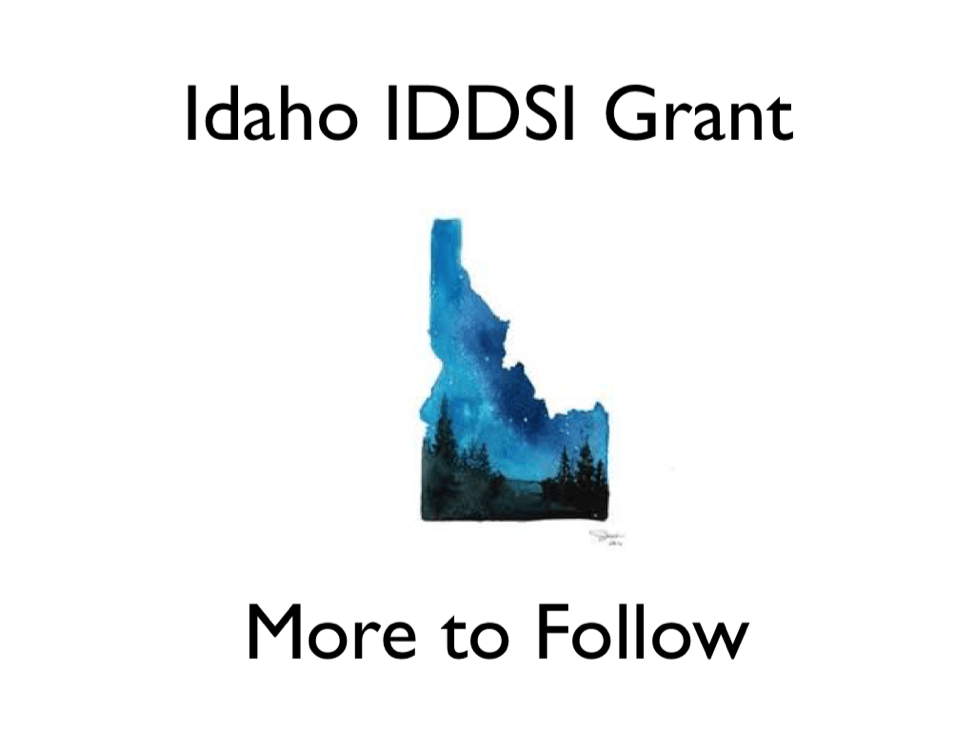 7. The Idaho Department of Health and Welfare (survey agency) partnered with the Idaho Healthcare Association to create a video series that includes an overview of IDDSI guidelines. This programming will be housed on the departments' website.
8. Menus and therapeutic diet extensions (along with recipes) were written to coincide with the IDDSI framework and guidance.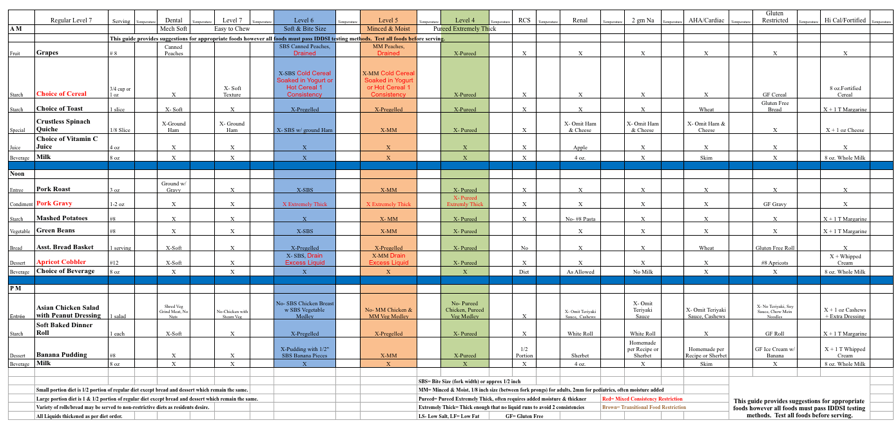 9. We will be doing regional IDDSI trainings in 6 locations around Idaho and Eastern Washington in June. These sessions will review "the basics" of IDDSI and are open to SLP's, RD's, CDM's, food service and nursing staff in any type of healthcare facility.
Here in our little state we could have taken a back seat and waited for others to lead the way with IDDSI implementation. That's just not our nature. Instead we decided to take it on, one small portion at a time……in IDDSI-bitsy bites, in fact. Now our bordering states of Utah, Washington and Oregon are all looking to us for leadership to help their states do the same.
******
Thank you to my guest blogger for taking time to share this inspiring IDDSI story from Idaho:
Sue Stillman Linja, RDN, LD is a Registered Dietitian Nutritionist with a passion for nutrition and aging.  Sue has spent the past 29 years of her career working in long term care — as a food service manager, state surveyor and a business owner and consultant.
Sue has been widely sought after as a speaker for nutrition and aging seminars in the northwest and recently presented a TedTalk —The Road to 100.  Since her mom passed away from Alzheimer's Disease, Sue has a special passion for researching and educating on the prevention of this disease, resulting in the co-publication of the book, The Alzheimer's Prevention Food Guide.  In addition to creating and implementing quality nutrition and menu services for her clients, Sue and her business partners also provide contract work for nearly 55
 dietitians in 10 western states.
Sue has held leadership positions in the Academy of Nutrition and Dietetics, the Idaho Health Care Association and Treasure Valley Dietetic Association. She is Co-founder, Officer and President of S&S Nutrition Network, Inc. and Co-founder, Officer and Vice President of both LTC Nutrition Consulting and Nutrition and Wellness Associates.
She hopes to age gracefully, reaching her 100th birthday by maintaining close relationships, eating a mostly plant-based diet and drinking fine wine.
By Sue Stillman Linja, RDN, LD